Music Doctor Dinh Hoai Xuan: "I owe it to myself and to people"
July 30, 2021
www.phunuonline.com.vn
The desire to bring classical music closer to the Vietnamese public is something that Dinh Hoai Xuan has always struggled with. She is the founder of Cello Fundamento, and also the ambassador of the book Beethoven - music & life released in Vietnam which attracts many readers.
19 years old, fell in love with the cello
* Reporter:  It seems that any cello player, especially a girl, is also full of strength…
- Cellist Dinh Hoai Xuan
: You remind me of one time while playing for Romanian professor Razvan Suma, the professor pondered for a while and then said: "Hey young lady, before and after listening to you, I have two states of feeling. about her. At first, I thought this girl was fragile, vulnerable, and smiling; and after listening to the piano, I think I was wrong because there is a rare determination and determination in her. I sensed that she had a power that contrasted with her appearance." You're probably right, at least with the cello girls I know.
After all these years of growing up with the thick, warm echo of the cello and the intense vibes through each sound of the piano, I find myself greatly influenced by those sounds. The place where I was born in the land of sunshine, wind, and white sand in Quang Binh; during my childhood, I listened to Hue tunes and sweet voices of Hue people; growing up in Hanoi and finishing my studies in Romania, that whole path, honestly, using every single strong word wouldn't be enough to describe it.
describe all.
* Back when she was young, to be able to go to Hanoi to study for the entrance exam to the conservatory, she must have overcome many difficulties. How was it at that time in Hue?
- I grew up in an environment that seriously lacked all the conditions to develop classical music, including my major. I learned music from a very young age, but it was not until I was 19 years old that I saw the cello for the first time. And at that moment I said to myself, from now on, nothing will stop me from getting to the cello. At that time, I started playing piano, teaching organ, teaching dance... to earn money to learn cello. Professor Vu Huong and outstanding artist Nguyen Tien Phuc from Hanoi to teach in Hue advised me to go to Hanoi to study to develop more.
Without conditions, I had to choose to study cello once a week and then return to Hue to continue studying while making money from teaching piano and organ... Hue school used to have a cello but over the years. was lost, so the way to study at that time was arduous and poor.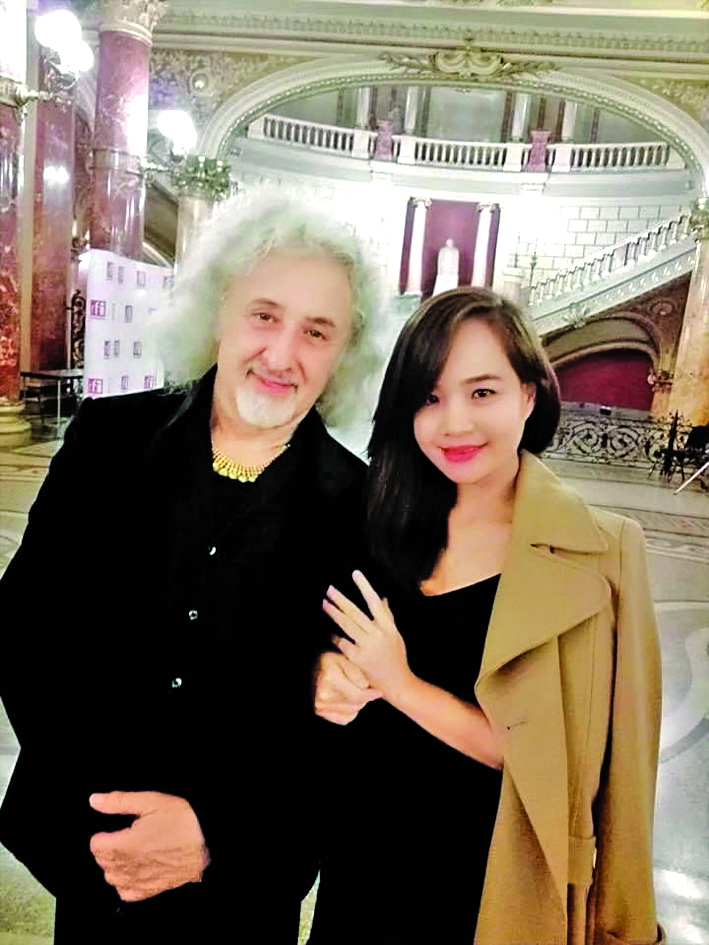 With artist Mischa Maisky
* Did your study path follow you for a long time?
- Yes, that's right. But each enthusiast has his own "learning" style. For me, there is a lot to be said about the long, 22-year study from elementary music to Ph.D. People often make fun of my destiny, I have a long learning curve. But I never get tired of studying a lot, even finding it a very good way to train myself, from discipline to daily routine.
My father is an army colonel, so since childhood, we have been trained by him to always wake up early and be serious in studying and working. Until now, I still keep this habit, from practicing piano to reading books and learning many things in life. If I woke up late one day, it was like that day I felt very uncomfortable about myself.
* Memories of going to school on buses, some of them carrying pigs and chickens, seem unforgettable?
- Hard work is uncountable. The chickens and pigs next to the cello on those buses have fallen asleep countless times. But perhaps, a determination is the highest thing and I find happiness in that effort. If it were to be recounted, it would probably be as long as a book.
* To become the first doctor of cello in Vietnam, of course, it is not easy, for Ms. cello is...
Coming and staying with the cello is the way of seven notes with many colors, hard but beautiful. The word cello is feminine in Russian, masculine in French, and neuter in German. In my heart, the cello is a solid and warm confidant.
Dreams don't come twice
* When studying in Romania, did you feel overwhelmed? What is the obvious difference that you feel?
- I consider myself very lucky to be studying here. Once, I met Mischa Maisky, an artist that I've always heard from since I was a child. I never thought that one day I would meet, hear the artist play here, talk, and keep in touch about future concerts, that was like a dream to me.
During my four years of study, research, and training in Bucharest, I couldn't believe I was so lucky. Before going to school, during my studies, and after graduation, I was still deeply in debt, but I know my chances of studying in this environment will not be second, like a dream that cannot come twice. times, so I had to put it all aside to study and learn. I think, after studying, I will take care of financial problems later.
* What is special about your music Ph.D. thesis?
- The title and content of the project are "Cello in Vietnam, performing and popularizing". I have had a lot of experience in things such as: producing, debuting, releasing albums… Up to now, I have held press conferences seven times, from the release of the album Khuc phieu du mot doi to four national concerts. economic. The whole process above, I put into the thesis in the form of research papers with scientific and practical nature.
After defending, the committee suggested that I print the thesis in book form in 3-4 different languages. As for Nicolae Brandus - the thesis guide professor, who recognized me as his first Vietnamese Ph.D. student, said: "Most proudly, I am ready to accept any Ph.D. student who is Vietnamese. Next, I am really impressed with this Vietnamese graduate student with such hard work and enthusiasm."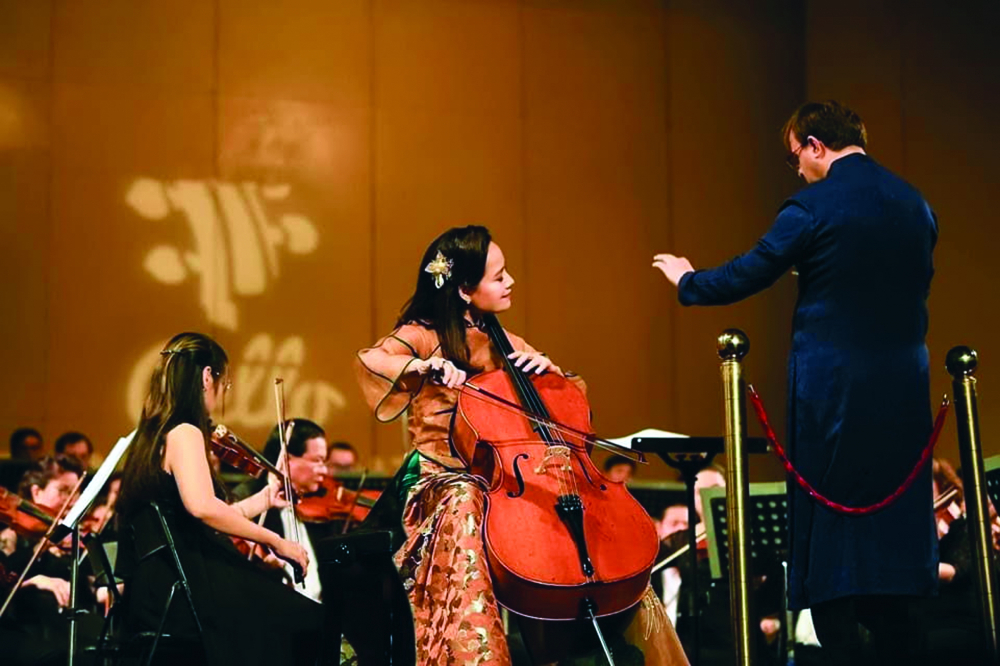 In the heart of music doctor Dinh Hoai Xuan, the cello is a solid and warm confidant
* When you finish school, do you want to go back or not?
- According to regulations, Ph.D. students must return to contribute to the country. However, some NCSs due to personal, family, or health conditions... may make different decisions. For me, my hometown is the most wonderful place on this earth, so I choose to return. And because I feel that coming back is also "predestined".
* What did your project "Cello Fundamento" bring?
- It's a whole story, a sweaty and "bloody" road. I just want to summarize that.
* What makes Trinh Cong Son's music seem to dominate the albums that you have released?
- While waiting for a scholarship to study abroad, I really want to do that and I thought, why don't I reach out to the audience by popularizing cello to the masses in the simplest way. The music of musician Trinh Cong Son is quite familiar to the public, the music sympathizes with the bass of the cello, so I and my colleagues performed songs that were converted into instrumental music such as Tuoi da buon, Cat bui, Mot coi di ve,...
Moreover, I live in Hue, so it seems that Trinh Cong Son's love songs - he is also a Hue person - have been absorbed into me at some point unknowingly…
* Referring to Hue, that explains why in the concert programs of "Cello Fundamento" before the end is usually a Vietnamese folk song and mostly Hue folk songs, is that your intention?
- Right. After performing works of classical music geniuses in the world, the last song is always a folk song prepared for the artists attending "Cello Fundamento" to perform, both as a gift special especially for Vietnamese audiences who have just introduced international friends. That is the Vietnamese folk song, most of which is Hue folk song.
* As an artist of academic classical, this is really pride, but do you ever feel heartbroken or find yourself lost in the market?
- Yes, but I understand it is a common disadvantage for all classical artists in Vietnam, not just me. To change this somewhat, it takes time and breakthroughs. On the occasion of Prime Minister Nguyen Xuan Phuc, his wife, and many domestic ministers and deputy ministers visiting Romania, at that time I presented and had some suggestions to the Prime Minister such as bringing classical music to schools to learn. Students have more opportunities to hear and understand immortal classics in the world.
Just one lesson, 45 minutes a week for children to listen to music, children will be more confident and socialize faster in the field of culture and art. In addition, classical music also has a positive effect on the development of children's mentality, helping to reduce school violence somewhat.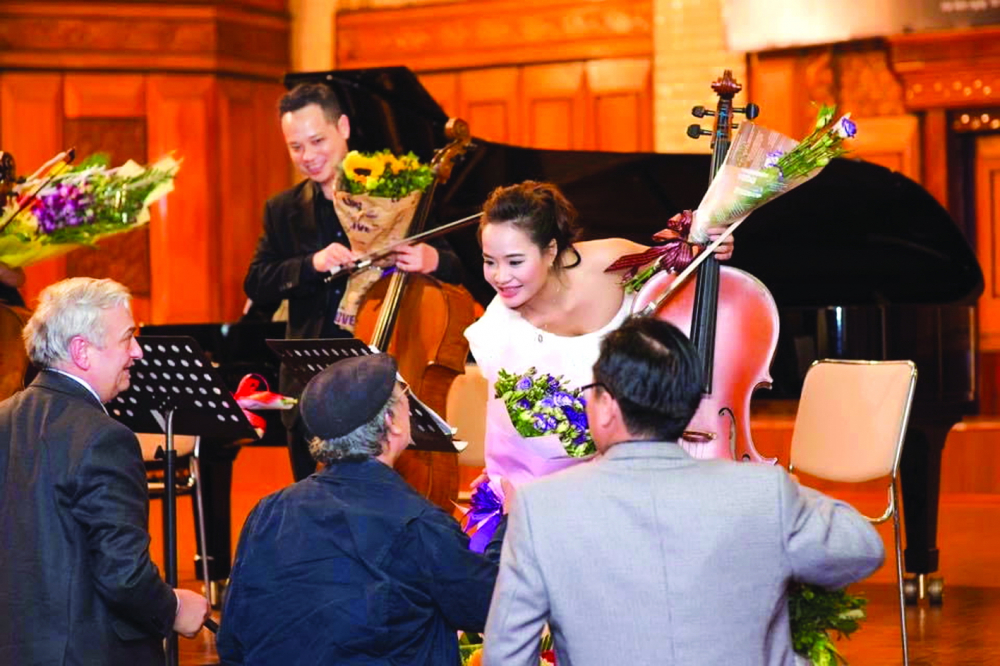 For Dinh Hoai Xuan, the homeland is the most wonderful place on this earth, so she chose to return and continue to accompany the cello.
* Rice does not joke with poetic guests, optimism must be quite important in your life?
- Living optimistically, yes, that way of life has made a great contribution to the spirit, saved me from the time of the economic crisis, and helped me avoid negative actions at that time. As she said, rice and clothes do not joke with customers, so far, I am still the one who carries… debt!
My debt book is densely recorded in three books with loan contracts, names, and addresses of lenders, payment terms, interest rates... as a souvenir, both a lesson that must not be forgotten and a testament to the reckless youth that dares to think and do, going up with their own unremitting efforts.
In addition to financial debt, I find myself in debt to solo concerts with big-name orchestras around the world, repaying my years of hard work to Vietnamese music lovers and the world. gender.
* I also know, there are elaborate performances that only performed once, leaving many regrets.
- Yes, prepare carefully all year and debut to the audience in just a few hours. It's a pity, but it's a continuation, like the links that lead me to different sublime musical experiences on an interesting long road. Music is always creative and non-repetitive, exploratory, enduring, and uplifting, perhaps for very brief moments. So, if classical music can be popularized, how good it will be for people who love and understand how to enjoy this academic music to help relieve anxiety.
Music Book Ambassador
* Besides music, what other passion do you have?
-In the book project about Beethoven's life that I was invited to be an ambassador for, I was extremely touched and wrote the introduction lines about that book. The extraordinary energy to overcome fate, to step through life's barriers to sublimate in Beethoven's music makes me constantly touched.
But if you ask, I confess, I also read books on philosophy, psychology, and say it, don't laugh, I'm interested in books related to horoscopes, numerology, books about the system. The system of philosophical thought of the ancient Asians, the religion of heaven, and human affairs.
"The purpose of my life, like many people, is simply, to live an idyllic life filled with laughter, in that idyllic life there is a 'round face' of passion for classical music. "
Doctor of Music Dinh Hoai Xuan
* What song means the most to you?
- It is Concerto written for cello and symphony orchestra by British composer Edward Elgar. The work has four movements and is 33 minutes long. This is a moving story, performed by many great artists such as Jacqueline du Pré, Steven Isserlis, Gautier capuçon, Sol Gabetta, Yo-Yo Ma, and my professor, Razvan Suma... I also fell in love with the contrasting emotions in this version so I practiced every day.
* Are you a romantic? What kind of person will your life partner be?
- Not necessarily. I think of myself as someone who reconciles both romance and reality, just different in time. Music really occupies my mind, in life, love, family. I think he will be a simple and quality man with, beautiful lifestyle.
* What is happiness in reality for you?
- To keep a positive attitude and thinking in every moment that we can breathe; Be grateful to the people next to you and be grateful for life. If I'm stressed, I'll find a way to smell a favorite scent. As a matter of fact, I'm dealing with a few unfinished responsibilities in order to be phased in. My desire is both spiritual and practical children.
* What are your upcoming plans?
- Is going to perform as a solo cellist with the classical symphony orchestra that I love and dream of so much.
*Thank you for sharing.
Codet Ha Noi