Miss Ngoc Han gives a special gift to Cellist Hoai Xuan
July 30, 2021
vietnamnet.vn
Because of her love for the cello sound of Dinh Hoai Xuan - Vietnam's first cello doctor, Miss Ngoc Han decided to sponsor the entire Ao Dai for the Cello Fundamento Concert 4 concert on December 29 at Hanoi Opera House.
Dinh Hoai Xuan revealed that her concert using ao dai was reasonable and Miss Ngoc Han not only sponsored her costumes but also generously donated 44 ao dai to the whole Vietnam National Symphony Orchestra and other artists. International artists participating in the program. It was a great gift because otherwise, she would have to spend a fortune on the costume.
Miss Ngoc Han shared that she has known artist Dinh Hoai Xuan for a long time, so when she knew that her seniors were doing concerts, she actively suggested: "What can I do to help you?". And the beauty briefly thought that in this concert of Dinh Hoai Xuan this time, if both domestic and foreign artists wear ao dai, it will also be very beautiful because in addition to enjoying the art, the audience's eyes are also impressive and that's why she gave a gift to Dinh Hoai Xuan.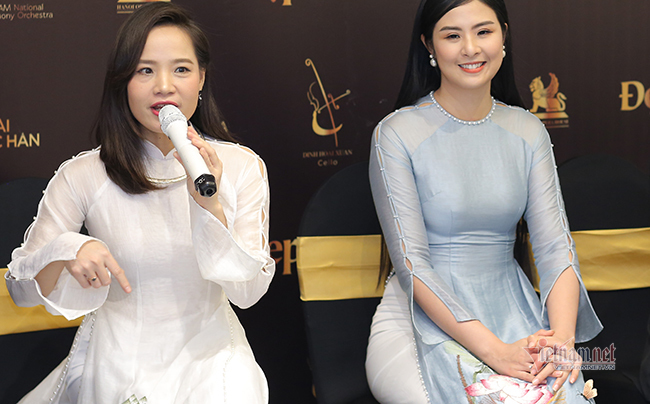 Cellist Dinh Hoai Xuan and Miss Ngoc Han.
According to Dinh Hoai Xuan, her concert this time with guests will perform many world-famous classics, of course, Vietnamese works, specifically "Trong com" will be performed by musician Do Hong Quan. Musician Do Hong Quan said: "I used to compose 'Trong com' for the trumpet and the Vietnam National Symphony Orchestra has performed, but this time I will do it differently, which is composing for the cello. The interesting thing is that I exploit the techniques of the instrument, for example, there is a part where I have to use my left hand to tap the body to create interesting effects to follow the spirit of the fun song.
Musician Do Hong Quan also highly appreciated Dinh Hoai Xuan's investment and efforts in this concert. He said: "For a long time, VietNamNet has organized the National Concerts of the Thousand Cashew Remains and most of them introduce Vietnamese works. And the fact that Hoai Xuan regularly does private concerts is considered the right direction because we have to raise the level of Vietnamese music to the level of contemplation and have conditions to interact with the world.
On the side of Dinh Hoai Xuan, the female artist did not hide her financial difficulties when over the years she held loss-making concerts and sometimes wanted to stop, but her intense love of Cello made her unable to sleep and overcome to stop extinguish hope.
''My professor is Romanian and this time went home empty-handed because normally every year, I have to buy another plane ticket for Cello, but this time it was reduced a lot because I borrowed Tien Phuc's cello for the professor to perform. Small details, but each person has a hand to help me more motivated for this Cello Concert 4 this time. On the way, I often find myself lonely, but it is also the affection I feel from friends, teachers, and the audience that makes me realize that I am not lost at all because there are still many supporters' - Dinh Hoai Xuan said.
Please watch the self-created clip of the article:
Anh Phuong