Female cellist makes Trinh music fans passionate
July 30, 2021
dantri.com.vn
For the first time, a Vietnamese female cellist has released a Music video with a vibrant melody and stunning visuals. With "Song ve dau", Dinh Hoai Xuan made Trinh music fans passionate...
Four months after the release of the album Khuc phieu du mot doi, female cellist Dinh Hoai Xuan continued to invest in the MV "Where is the wave" with a beautiful, very romantic image. This is a famous song by the late musician Trinh Cong Son extracted from the album by the female artist.
Dinh Hoai Xuan shared, 18 years of working with the cello, she often plays Trinh Cong Son's favorite songs. Trinh's music seems to be absorbed into the blood of a young female artist, making her want to convey that flow of passion to the audience.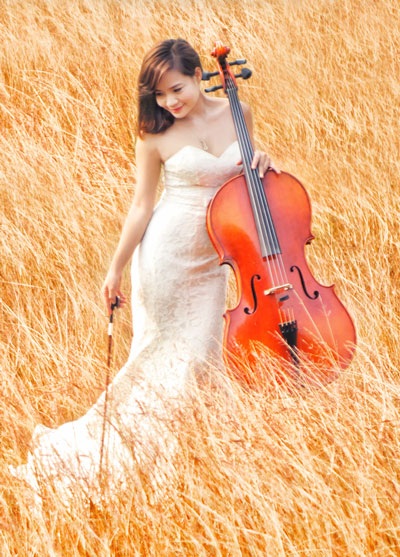 Female cellist Dinh Hoai Xuan has just released the MV "Song ve dau"
Trinh's music has been chosen by many generations of Vietnamese artists to perform. And with the form of orchestral concerts and instrumental solos, there are also many pianists, saxophonists, violinists, guitarists... to choose from. But with the cello, with its characteristic warm sound, there is no Trinh music album in Vietnam yet.
Composer Luu Ha An admits that it is rare to see an artist playing classical music with such passion and admiration for Trinh Cong Son. And for the first time, Trinh Cong Son's music was played on a cello with warm bass tones. If for a long time Trinh Cong Son's music has been "overdone" in ways of breaking singing or performing in different genres, with Dinh Hoai Xuan's performance, Trinh's music has entered people's hearts differently. natural as its author wanted it to be.
When Dinh Hoai Xuan appeared with a new musical instrument with a new sound and scenes in the wild, vast natural area with valleys, forests, grass, and lakes... in Tam Dao, the audience was really surprised and enjoy it.
To get the immense and beautiful frames in the MV Song ve dau, young director Le Ha Nguyen revealed many scenes recorded with advanced technology such as flying camera, giving the visual effects more shimmering and unique. unique.
With musical thinking and a different way of doing things, the wonderful images in "Song ve dau" Dinh Hoai Xuan were praised by the teacher-Professor-Dr. Vu Huong. Dinh Hoai Xuan's replay of Trinh Cong Son's love songs on the cello with the accompaniment of a semi-classical orchestra has been very helpful in spreading the knowledge of Western musical instruments and constantly improving his aesthetic, he said.
Dinh Hoai Xuan said that in parallel with performing work, in the future she will continue to pursue a career in studying violins by developing a doctoral research project. She will also continue to record her music with more youthful, vibrant music styles…
Invite readers to enjoy "Song ve dau" by female cellist Dinh Hoai Xuan:
Nguyễn Hằng