Dinh Hoai Xuan and the dream "Returning"
July 30, 2021
phunu.nld.com.vn
Cello artist Dinh Hoai Xuan will perform his special program called "Cello Fundamento Concert 4 - Home Sweet Home" on December 29 at the Hanoi Opera House.
With a special love for Cello, artist Dinh Hoai Xuan has maintained and developed the Cello Fundamento concert series annually since 2016, although it is extremely difficult to do this. She confided that there were many difficulties and pressures, but those difficulties turned into a motivation for her to continue and she could not extinguish her hopes. "In fact, until number 3, I found it too difficult from the financial economy to be able to pay for it all and was about to stop to find a better direction, but it was the painful love of Cello that kept me from sleeping"- Dinh Hoai Xuan said.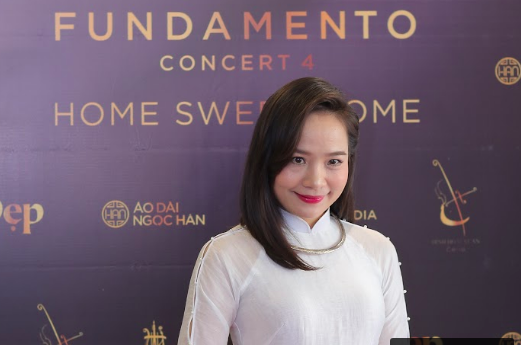 The desire to express gratitude to Vietnam, where she was born, raised, inspired, and planted her passion for the cello, the 4th Cello Fundamento is also a deep thank you to the government for giving granted a scholarship for 4 years Dinh Hoai Xuan to study in Romania, helping her become the first female Ph.D. student in Vietnam majoring in music and cello performance.
Performed famous works such as Bach: "Suit No 1", "Four Romanian dances", "Trio for clarinet - 1st movement", "Fantasiestucke: Adagio and allegro", "Trio 2 parts for the seasons", "Double" concerto", "Concerto for Cello and Orchestra"..., the 4th Cello Fundamento brings together more than 60 talented artists of classical music in Vietnam and the world. Among them can be mentioned two talented artists from Romania, Ciprian Marinescu - Conductor of Japan Osaka Orchestra and Răzvan Suma - Professor at Bucharest National University of Music, teacher during 4 years of study of Dinh Hoai Xuan in Romania.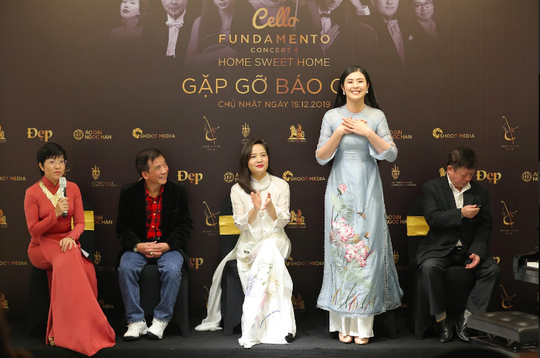 Besides, there are artist Yamaguchi Hiroaki from Japan, artist Ella Bokor from Romania, artist Chu Hai Ly - lecturer in the piano department of Vietnam National Academy of Music and clarinetist Tran Khanh Quang, who graduated with a masters degree in Clarinet performance in the US, currently a lecturer at the Vietnam National Academy of Music and the Vietnam National Symphony Orchestra, also accompanied artist Dinh Hoai Xuan in this program.
In addition to MC Le Anh - My Lan, with her ingenuity, the program will be more emotional, close, and impressive. In particular, musician Do Hong Quan - Associate Professor, Doctor of Science, Chairman of the Vietnam Musicians Association - will be present with Cello Fundamento Concert 4 with a compilation dedicated to Cello performance with the Orchestra.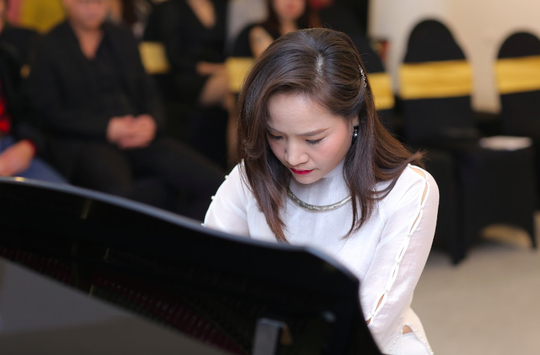 Artist Dinh Hoai Xuan came to music at the age of 10 and loved and attached to Cello from the very first day. She was the valedictorian of Violoncello at Hue Conservatory of Music in 2005. She graduated with a Master's degree in Violoncello Performance from the Vietnam Academy of Music in 2012 and won a dual Ph.D. scholarship from the Government of Vietnam and Romania for the Cello performance major at the National University of Music Bucharest, Romania.
Dinh Hoai Xuan has released many MVs, in which the musical film "Towards Hanoi" (Hoang Duong) with a great investment in funding and a dedicated and talented team, the product was released on the occasion of the anniversary 60 years of the Capital's liberation caused a great resonance in the domestic music market when it was highly appreciated by musicians, artists, media, and the public.
The album "Khuc phieu du mot doi" released by Dinh Hoai Xuan includes 8 songs by musician Trinh Cong Son, which were arranged for the cello and semi-classical orchestra to perform in 2013 also marking the efforts and love of the singer. This beautiful talented artist has toured in many parts of the world such as Italy, Spain, Greece, Russia, Australia... and was also a member of the Southeast Asian Youth Symphony Orchestra (2006).
Currently, Dinh Hoai Xuan has completed her Ph.D. thesis in Cello performance at Bucharest National University of Music, Romania, and became the first female Doctor of Cello in Vietnam.
Dinh Hoai Xuan chose to go his own way, though arduous but special. Deep in her heart, the beautiful female artist always understands that wanting to get closer to the public through classical music in today's music market is not an easy thing.
"The road ahead is still arduous, but I am not impatient, but still make efforts to find a way to bring classical music closer to the public. Even though the music market is harsh and difficult, I do not allow myself to give up and have to learn how to overcome" - artist Dinh Hoai Xuan said.