Cello artist Dinh Hoai Xuan: The cello is like one with me
July 30, 2021
cstc.cand.com.vn
- Since when did the cello come to you?
+ I grew up in Hue, at that time the Hue Conservatory did not have a cello, so I studied with piano, organ, guitar, even dance. One day I realized that I have not really blended with those instruments. Until one day the cello appeared, seeing the cello for the first time, from its shape to its warm sound, I was immediately subdued, I fell in love and fell in love with it at first sight. I was 18 years old then.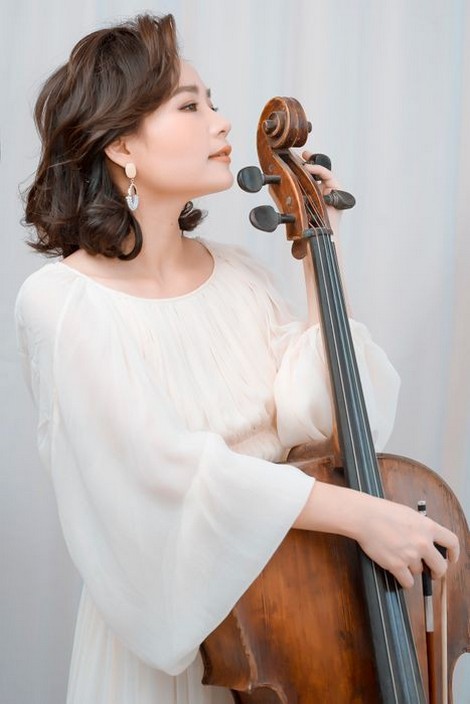 Dinh Hoai Xuan.
- Coming to the cello late, but she has had successful breakthroughs showing her hard work and love for the guitar. How was that journey?
+ It was because I was disadvantaged from the beginning, so I had to try a lot. There were periods because it was too difficult, so I didn't go to Hanoi to study but had to take bus trips with very little money and carry a big cello. Many times when I fall asleep, I open my eyes to see chickens, ducks, and pigs, which are unforgettable memories. I went to Hanoi for a year like that to study for the entrance exam to the National Academy of Music with very high scores.
Hue is the place to nurture my soul when I grow up and it is that sunny, arduous land that helps me to make more determination and effort. When I studied at university and master's degree in Hanoi, I was the one who worked the most in the cello department. Cello with me as one, eat with cello, sleep with cello, and dream with the cello.
- Many artists finish school, they will choose to become a musician in a symphony orchestra. And you, why don't you choose that fateful path?
+ I've been with the orchestra for 2 years, I can't find myself in the orchestra at all and I realize this is not my way. It is important to know for yourself which path is right for you. I think that road is too difficult but I have a life to live and time to do, why don't I try. Young people try it. I determined that I had to spend a lot of time cultivating and really learning, and if I didn't succeed, I wouldn't regret it. And I went to school, dreaming of becoming a solo artist and not only in Vietnam but also in the world.
I just do it, step by step, step by step like an ant that fills a nest. When I graduated with a master's degree at the National Academy of Music, I found my own path and felt that the path was still too far, so I decided to continue my studies and reach out to the world, to touch the cradle of music. classical music and luckily until 3 years later I got a full scholarship to study abroad at Bucharest National University of Music.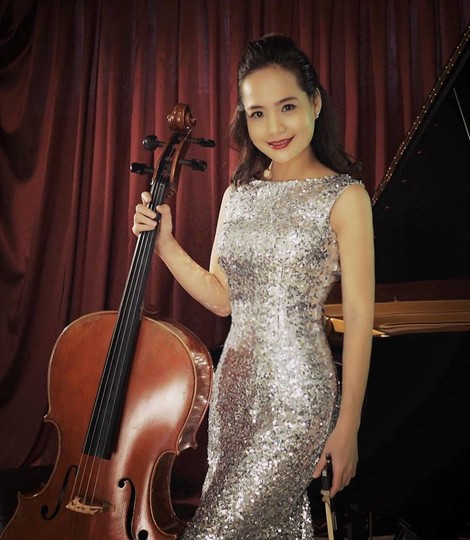 Dinh Hoai Xuan is the first female cello doctor in Vietnam.
And during those 3 years of waiting, I had to take a detour, releasing music products such as the album "Khuc phieu du mot doi" consisting of 8 songs by musician Trinh Cong Son, which were arranged for the cello and the semi-conductor orchestra. classical performance in 2013, the musical film "Huong ve Ha Noi" to gradually approach young people.
During 4 years studying abroad in Bucharest, I only knew there were 3 ways, not because I don't like to go out and explore, but because I was determined to have been disadvantaged, this is my chance to rise up. I spend 8 hours a day practicing the piano and I only know the way to go to the supermarket, go to the Embassy to receive a scholarship, and the way to school. With such persistence within 4 years, I graduated with excellence and my thesis was published in 3 languages ​​by the Council of Professors along with the Cello Fundamento project to popularize cello in Vietnam.
- In fact, many of our talented artists have gone abroad to study and do not return because there is no land to use martial arts, we are having a brain drain on art. And you, why did you choose to return when the cello is still quite unknown to the public?
+ I'm not really coming back nor really leaving, I'll 50-50 between going and going. And Fundamento doesn't just stop in Vietnam but goes out to the world. But the painful dream for my own career is that I want to become a solo artist who can solo with famous orchestras in the world. I will spend the rest of my life doing it. In Vietnam, I want to spread the love of the instrument and contribute to nurturing the love of music for children. Personally, I want to go out into the world.
I set a goal for the next 10 years to reach my dream. Every day I wake up at 5-6 am, spend 6-7 hours practicing the piano, so compared to my friends in the world and Hanoi, I started late with cello, but I believe, the world has many good examples. late but extremely successful, so I am motivated to try. Music legends, their sound lives forever in the hearts of the audience, thanks to their own colors.
When the technique reaches a certain peak, success or not is finding your ego. After 4 years of being exposed to the world, interacting with many legendary artists, and a long-standing culture in Eastern Europe, I have a stronger love and a greater desire that in a hundred years, Vietnam will also there is rich music not only folk songs, zither, erhu, lute, but symphonic music also develops in Vietnam.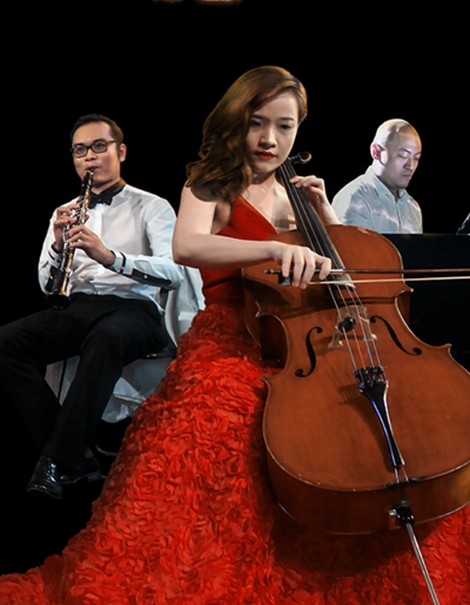 Dinh Hoai Xuan has performed in many countries around the world.
- And you, after a long journey of hard work, did you find your ego?
+ With the concert Cello Fundamento 4 - Home Sweet Home (Return) taking place at the Hanoi Opera House on the night of December 29, I hope the audience will see their own color. Each artist has their own inner world, their own musical personality, it is important that they find empathy with the audience or not. Many people feel the enthusiasm and desire in me when playing music. This helps me spread the love of the cello to the audience.
- After 4 seasons of organizing the Cello Fundameto performance in Vietnam, do you see any positive signals from the audience?
+ I strongly believe in the audience, more and more believe. Audiences are becoming more and more sophisticated, knowing more about music. I hope that the preschool generation will have the opportunity to approach classical music. Looking at the number of ticket bookings so that I always believe, the path I am on is the right one. I set the ticket price high to affirm the professionalism and merit worthy of the classical artist. Of course, when I finished my Ph.D., I was just beginning my path. Ahead is another difficult road that I have to face.
- Chị nghĩ gì về vai trò của một người tiên phong đưa cây đàn cello trở thành một nhạc cụ solo và phổ cập  cello ở Việt Nam?
+ I keep doing well, people will sympathize with me. My purpose was determined from the beginning and I wanted to make my dreams come true. Now back in Vietnam, I have a quiet practice place in the mountains to practice. A lot of people laughed and told me I was too far away from reality.
But I don't, instead of every day people go to work, earn a living to have an economy, minimize my living needs, eat simply, have a balanced, natural life, and spend time with my family. time for exercise. That is not a sacrifice, often wanting to succeed must sacrifice other small happiness but I do not think that going to coffee, shopping is not the happiness that must be in my life.
I set goals for what I will have time to spend on it. Young people now have too many things to control, so it takes a lot of time. If it is clear from the beginning, it is very simple. Of course, things are not easy, but if my love is great, I will overcome it.
- Many people think that artists have to roll into life and collide with life, their sound will be deeper. And you, are you away from life?
+ I am not far from reality but am on the right path. My childhood was 10 years old, I lived independently, away from my family, had too many collisions, enough hardships for my fortune. Now I choose a quieter lifestyle to focus on practicing. Every month I do a small event to make ends meet. My living needs are not much, no brand name, I wash my hair, back to nature, I feel more relaxed. It's the way that works for me, so I have a lot of practice time, lots of concertos waiting. If I just give it my all, my dream will one day come true.
- Thank you for your conversation.
V. Ha (perform)