Cellist Dinh Hoai Xuan: A big dream with the cello
July 30, 2021
cstc.cand.com.vn
The girl from the sunny and windy Central region brought with her a big dream, the dream of bringing the cello sound to many children and becoming a solo cellist with many famous orchestras in the world. Those are the dreams that the little girl from the sunny and windy Central region will turn into reality in her musical journey.
At the age of 18, Dinh Hoai Xuan learned about the cello even though she studied music since she was 10 years old. She was subdued by that warm lute at first sight. After that, it was a hard journey by bus from Hue to Hanoi to find a teacher and determined to enter the National Academy of Music. But Xuan's dream did not stop there. "When I was studying for a university and master's degree in Hanoi, I was the hardest worker in the Cello department. Cello and I are like one, eat with cello, sleep with cello, and dream with the cello."
Hoai Xuan graduated with a bachelor's and master's degree in violin performance at the Vietnam Academy of Music in 2012 and won a dual Ph.D. scholarship from the Vietnamese and Romanian Governments for the major of cello performance at the University of Music. national music Bucharest, Romania.
Before going to study abroad, Dinh Hoai Xuan had many plans to bring the cello closer to the public. She released many MVs, including the musical film "Huong ve Ha Noi" (Hoang Duong) with a great investment in budget and a dedicated and talented team, so the product was released on the occasion of the 60th anniversary of the award. The Capital has made a big splash in the domestic music market when it is highly appreciated by musicians, artists, the media, and the public.
The album "Khuc phieu du mot doi" released by Dinh Hoai Xuan includes 8 songs by musician Trinh Cong Son, which were arranged for cello and semi-classical orchestra to perform in 2013 also marking the artist's efforts and love. this beautiful talented artist. She has toured in many parts of the world such as Italy, Spain, Greece, Russia, Australia... and was also a member of the Southeast Asian Youth Symphony Orchestra (2006).
Dinh Hoai Xuan completed her Ph.D. thesis in Cello performance at Bucharest National University of Music, Romania, and became the first female Doctor of Cello in Vietnam. She chose to go on a separate, difficult but special path. Deep in her heart, the beautiful female artist always understands that wanting to get closer to the public through classical music in today's music market is not an easy thing.

"The road ahead is still arduous, but I am not impatient, but still make efforts to find a way to bring classical music closer to the public. Even though the music market is harsh and difficult, I do not allow myself to be. give up and have to learn how to overcome" - artist Dinh Hoai Xuan said.
But I believe, Dinh Hoai Xuan will realize his dream. Composer Pho Duc Phuong shared:
"A female artist really wanted to go to the end, accept all challenges, moreover, she raised a strong ambition, in her own way, determined to bring the great beauty of the cello to the public. With talent and will, passion and creativity, perseverance, and courage, this artist initially had respectable successes in many programs. During the past few years, it was built by myself. Who is so respectable, precious, and lovely?
And musician Duong Thu admires: "I admire Dinh Hoai Xuan very much. I remember when I was doing the program "Dieu con mai" with the National Symphony Orchestra, seeing how small Xuan was sitting in the orchestra with the big sisters who today are soloists in international concerts alongside other artists. other famous international, moreover she organizes her concert series Cello Fundamento, someone to do that in her generation must be rare, very rare".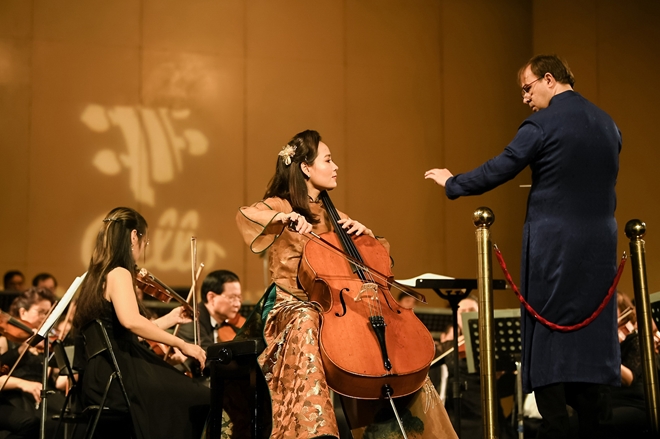 Dinh Hoai Xuan performed in Hanoi.
In the development history of music in general and symphony in particular, cello plays an indispensable role in works. Many people think that the cello is only mid-range. But really, the cello is not only the junction between the two sound layers in the orchestra, but with its distinct timbre, this instrument can still captivate people when solo.
Dinh Hoai Xuan shared: "But my painful dream for my own career is that I want to become a solo artist who can solo with famous orchestras in the world. I will spend the rest of my life doing it. In Vietnam, I want to spread the love of the instrument and contribute to the cultivation of children's love of music. Personally, I want to go out into the world. I set a goal for the next 10 years to reach my dream.
Every day I wake up at 5-6 am, spend 6-7 hours practicing the piano, so compared to my friends in the world and Hanoi, I started late with cello, but I believe, the world has many examples. I studied late but was extremely successful, so I was motivated to try. Music legends, their sound lives forever in the hearts of the audience, thanks to their own colors. When the technique reaches a certain peak, success or not is finding your ego.
After 4 years of being out to the world, interacting with many legendary artists and a long-standing culture in Eastern Europe, I have a stronger love and a greater desire that in a hundred years, Vietnam will also There is a rich musicality in not only folk songs, zithers, erhus, and lutes, but symphonic music also develops in Vietnam.
Xuan told me about her dreams. Why not, when we only have one life to live, let's live it to the fullest with our passion. In the days of returning to Vietnam, Xuan lived quietly in an empty house in the mountains. There, she was able to quiet her soul and listen to the vibrations of nature, there, Xuan was completely complete with the cello. Many people told Xuan to leave reality. But Xuan understands what he wants.
Instead of going to earn a living every day, she minimizes her living needs, eats simply, chooses a natural lifestyle, close to nature. No luxury brands, not many material needs. Xuan wants to devote all his time to the music.
"I set my sights on what I will have time for. Young people now have too many things to control, so it takes a lot of time. If it is clear from the beginning, it is very simple. Of course, everything is not easy, but if my love is great, I will overcome it" - Xuan shared.
With a strong passion for the cello and the desire to bring the sound of the cello to the masses, wishing that many preschool students love and choose the cello, in future Vietnam will have many talents. cello comparable to the world. Therefore, since 2016, cellist Dinh Hoai Xuan founded Cello Fundamento and maintains this program annually in Vietnam.
Fundamento night in 2019 ended with a full resounding, in the ancient and warm space of the Opera House, the moving cello of Dinh Hoai Xuan in the opening performance "Banh: Suite No.1 – Preldue" (Johann Sebastian) immerse the listener in a sense of well-being.
The music night once again proved Dinh Hoai Xuan's love and passion. And her path is not alone when she is accompanied by many friends, domestic and foreign artists. But not only realizing the dream of a solo artist, but Xuan also made many contributions to the community.
After the Cello Fundamento Concert 4, Dinh Hoai Xuan will collaborate with Phu Xuan University - Hue to bring the cello to schools, expected to reach more than 100,000 students across the country, especially in the area. central region.
Viet Linh