Artist Dinh Hoang Xuan: Telling music stories with the cello
July 30, 2021
baoquangbinh.vn
(QBĐT) - In the poetry and music program " Tro ve thuong lay nhau thoi" recently held by Dai Doan Ket Newspaper in Dong Hoi city, between the passionate voices with the love song Phu Quang, the warm cello sound of artist Dinh Hoang Spring is so special.


In the middle of the string orchestra, the image of Xuan with her eyes closed and leaning against each finger is enough to know that with Xuan, this trip back to his hometown is also filled with many emotions.
20 years of working with music, performing at hundreds of stages at home and abroad, but for Dinh Hoai Xuan, this is the first time she can stand on the stage of her hometown coastal city. The feeling of performing for relatives and loved ones right at home is very different, especially when the program is to raise money to support poor people in Quang Binh to celebrate Tet. So even though she had just arrived in Romania to study a doctoral program for less than a month, Hoai Xuan was still in a hurry to return. After 15 hours on the plane back to Hanoi and then from Hanoi, she took the bus to Dong Hoi with only one wish to have the most impressive performance. Dinh Hoai Xuan gave the audience 2 songs that night, in just 10 minutes, but those were the moments when she lived with all her emotions, choked, and immersed herself in the mesmerizing sound of the piano. Below the audience, seats are her family, many people in her hometown - who have entrusted in Xuan all their love and expectations. Due to the specificity of the music she is pursuing, Xuan doesn't have many conditions to perform in her hometown, but whenever there is a charity concert organized by the Quang Binh Country Council in Hanoi, Xuan participates a lot. 
Born in a family with no one following the artistic path, from a young age, Dinh Hoai Xuan soon showed a special musical talent. Knowing the talent of her child, her parents decided to study intensively in music in Hue. She said: Studying music is very hard. The first is 7 years of elementary school, then 4 years of intermediate school, 5 years of university, 2 years of graduate school, a total of 18 years and coming soon 4 more years of doctoral studies in Europe, 22 years of schooling. . Art is not a game in the middle but a lifetime of attachment to passion, dedication, and sacrifice. 20 years with many hardships, but not once did she feel discouraged but as Xuan once said: Without the flame of passion that always burns, it is impossible to continue on such a long and arduous path. Xuan is proficient in a variety of musical instruments and has been teaching piano for more than 10 years, but among these many modern and traditional instruments, the cello has a strong appeal to her. And then, the cello becomes the instrument of fate and will stick with Xuan for the rest of his life.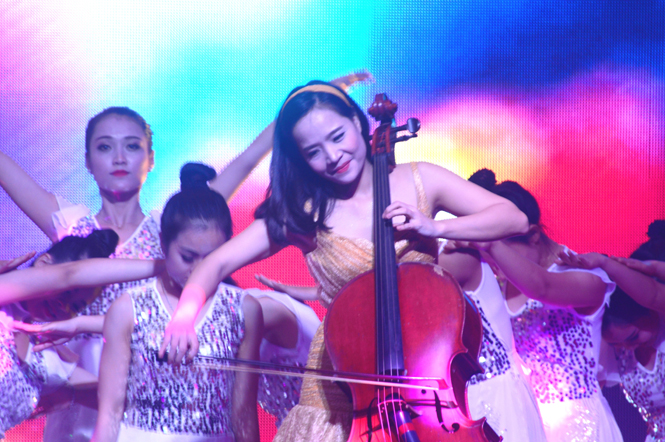 Cellist Dinh Hoai Xuan performs in her hometown.
Cello has bass, so the sound easily conveys emotions to the audience, especially when performing melodious and emotional music. Remember a year ago, Dinh Hoang Xuan's music video "Huong ve Ha Noi" really touched generations of music lovers. From a song that has lyrics and has been attached to many big names of artists to transform it into an ensemble for the cello is a challenge for young artists like Xuan. But listening to "Huong ve Ha Noi" by Dinh Hoai Xuan, many people liken it to "a musical waterfall that is both majestic, low-pitched, smooth and powerful, attracting listeners from beginning to end". Performing with a cello was considered a rather bold decision at that time because how to make an immortal song conveyed in a different form but still ensure the content that is already ingrained in the soul. Generations of music lovers. With skillful fingers, Xuan told a story with the warm sound of the cello. She said: that is her way of showing gratitude to Hanoi - the land that nurtured her love for cello and made the name of Dinh Hoang Xuan today.
From a toddler in the Central region who came to the capital to continue her studies at a music college, until now, Xuan has grown up to be a highly admired cellist. Xuan's fingers have firmly affirmed their position in the music market, which is very picky about listeners like a symphony. As one of the four-stringed instruments, the cello is warm but classical and quite scholarly. Pursuing the cello, but Dinh Hoai Xuan did not choose to perform with the symphony orchestra, but she was determined to turn the cello into a solo instrument in the Vietnamese music market. Spring's path is thorny and full of challenges, but once she has chosen to walk on a journey of many obstacles, the young female artist is still determined to go to the end. It is also a way for her to raise the music aesthetic of domestic music lovers.
Many people think that she is quite daring when she boldly rejuvenates and brings this profound and scholarly Western music genre closer to the audience. That's Dinh Hoai Xuan's decision to "cello" Trinh Cong Son's love songs. With Trinh music, the form of orchestral concerts and instrumental solos has been performed by many pianists, saxophonists, violinists, guitarists, etc., but with the cello, which has a characteristic warm sound, this is the first time. Firstly. Songs such as "Song ve dau", "Em con nho hay da quen", "Cat bui" ... which have been deeply rooted in the hearts of many fans, now come to the audience with an image fresh and equally profound. Hoai Xuan loves Trinh's music like he loves his own cello. Those two sacred feelings resonate together to become a strange passion and also create a music product with a strange appeal.
On stage, Dinh Hoai Xuan is as gentle and feminine as in her own life, Xuan is strong and daring. More than 20 years – since the little girl Dinh Hoai Xuan decided to leave her family to pursue her passion, it has been the same year that my sister forged her bravery and energy in front of life and the artistic environment that was too tempting. . And every time I think I'm unstable and shake my faith in life, I think of my family. There, there was a father, mother, and brothers and sisters who always loved and trusted Xuan unconditionally and were ready to be a support for her to firmly continue on the thorny journey ahead. In the warm house of laughter in Dong Phu ward (Dong Hoi), for the past 20 years, Xuan's mother - Mrs. Bui Thi Phuc has kept forever the photos, certificates of merit, and certificates of merit of her youngest daughter. She believes that no matter how harsh or bitter the artistic path is, her daughter still has firm faith and energy to continue.
Dieu Huong